Custom Equipment Fabrication
Integra can custom design and build the right solution for the distribution, delivery, or dosing of our chemical products.
We can build and customise all types of Water Treatment equipment as well as the dosing or dispensing equipment required for Cleaning and Hygiene related chemicals. We can also customise or retrofit to your existing set-up.
All our systems are custom built and constructed in Australia – for Australian conditions, and are designed to provide the best possible economic and environmental outcome for our clients.
Our system design process begins by meeting with you to gather critical information about your process, your applications, and various factors that affect your water and chemical usage.
Adherence to the local regulatory requirements is foremost in our applications, ensuring compliance with State specific regulations.
Our team of experienced engineers and designers then review all of the information to begin developing the right solution for your needs.
As we are a privately owned company, our design team can choose the best components from a range of manufacturers rather than being tied to just one supplier.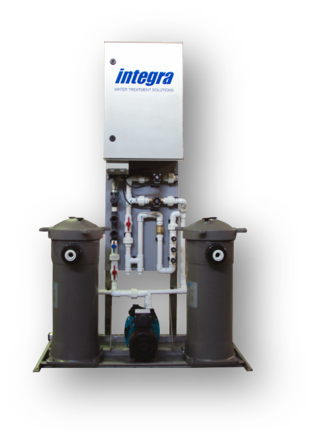 With full consultation and audit services provided, our specialists can work with your existing set-up to advise, adjust, streamline, and improve your processes to increase efficiency, reduce time spent on tasks, and maximise profits.
Our technical specialists can successfully plan, install and set up all related equipment, or repair, service and work within your existing equipment framework to deliver our customised chemical programs using Integra's superior products.
For more information on how Integra can revolutionise your business, contact an Integra specialist today.