Screw Type Sludge Dewatering Press
Screw Type Sludge Dewatering Press
Integra's Screw Type Sludge Dewatering Press is a dewatering unit that offers a superior alternative to other dewatering technologies, such as the centrifuge and belt press.
It offers clog-free functionality, low energy consumption, simple operation & maintenance, and is suitable for a wide range of applications.
Applications
The Dewatering Screw Press is a 'moving disc screw press' shown to be very suitable for the dewatering of dilute greasy and oily sludges at a rate of up to 60lpm for a sludge up to 30,000mg/l (3.0%) total solids.
A proportional increase to the hydraulic capacity of the unit can be expected with lower feed stream concentrations.
Integra's Dewatering Screw Press has been successfully deployed in many situations; some examples are:
• Primary and secondary sludge dewatering from ice cream manufacturing
• Primary sludge dewatering in corn and mixed vegetable processing
• Secondary sludge in leachate treatment from composting facility
• Secondary sludge in sewage treatment plant
• Secondary sludge in milk processing plant
• Secondary Sludge in chicken abattoir
Principle of Operation
Integra's Dewatering Screw Press is very simple in operation. Sludge flows into a flocculation tank where the polymer is injected and the sludge is conditioned before flowing into the thickening zone of the auger.
Free water drains from the sludge in the thickening zone as the auger transports the sludge across the fixed and moving plates. As the pitch of the auger changes and the sludge is compressed against a backing plate, further water is squeezed from the sludge.
Figure 1: Diagram showing the thickening and dewatering components of the machine.
The performance of the machine is adjusted by shifting the position of the backing plate. Shifting the pressure plate in closer to the machine reduces the aperture through which the sludge is discharged which in turn imparts greater pressure on the sludge in the dewatering section of the auger.
Figure 2: Pressure plate at the back of the machine used to regulate pressure on the sludge.
Power Requirements
Integra's Dewatering Screw Press trial unit offers a capacity of up to 100 kg dry solids has the below-expected power demand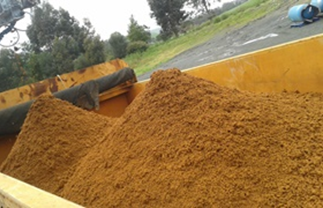 For more information on sludge, the dewatering process, and equipment, contact Integra today.