Media Filters, Cartridges & Pumps
Water Filtration Media
An important component of any filtration system is the physical or chemical material designed to separate suspended solids and particulate matter from the water supply and allowing the water to pass through. Materials used in filtration are generally referred to as filtration media and come in a wide array of materials and sizes. Certain materials are better suited in the removal of specific types of solids, thus most filter media beds are a combination of different materials including filter sand, gravel, anthracite, green sand,garnet, and activated carbon.

Integra stock a complete assortment of water filtration media to meet our clients' needs and uses our 30 plus years in business to select the right type of water filtration media as well as how much and how often the media should be replaced. We take the time to fully understand your water usage and requirements in order to provide an exceptional level of service from media replacement to fully servicing or monitoring your water filtration systems.
Bag Filters for Water Filtration
One of the most important parts of a water filtration system is the filter and industrial bag filters work much the same way a coffee filter works. The filter is made of a porous material that allows the water to flow through the filter but small enough to capture solids and particulates. Industrial bag filters are recommended for medium to fast water flow rates because they trap the solids while allowing for a rapid flow rate.
Integra offer a large range of industrial bag filters to fit most filtration systems and meet most application requirements. Bag filters vary by material, construction, and most importantly, the filtration size usually designated in microns. We offer housing units to hold the bag filters in place during filtration in PVC, carbon steel and stainless
steel, and we recommend stainless steel because it won't corrode or rust like regular carbon steel housing units.
Our high performance filter bags feature durable materials and strong seams to ensure long term usage without the problems of separation or breakage.
Our over 20 years of experience helps us to determine the right industrial filter bag to meet your water processing needs and work with your new or existing filtration equipment.
Cartridge Filters for Water
Another type of filter used in water filtration is the cartridge filter which is generally used for lower flow rates and fine filtration. The filter vessels are built to hold a number of cartridges of various microns sizes and lengths to handle desired flows. The water passes over several filter sizes (depth filtration) to trap particulate solids and allows the clean water to continue through the system.
Like bag filters, cartridge filters are used to remove contaminants, depending on your application. The filter media in a cartridge may include a wide range from anthracite, quartz to conditioned media for iron and manganese removal, and activated carbon. Cartridges may also contain polymeric material and be string wound, melt blown or pleated membrane.
Integra provides assistance in selecting the correct cartridge filter for your water purification system and help you maintain your entire system from cartridge filters, to service, to monitoring your water usage and application needs.
We also offer a complete line of housing units specifically designed for cartridge filters, manufactured from PVC and stainless steel depending upon your requirements.
Self Cleaning Water Intake Screens
Automatic strainers are used in basic solids removal and act like a screen to capture solids while allowing water to flow through the system. These strainers use a series of different sized screens to trap solids starting with larger diameters and moving to smaller screens to allow for the best water flow.
Self-cleaning water intake screens and strainers are effective in preventing debris from clogging pumps and other
components of a water filtration system, allowing those components to work at maximum efficiency.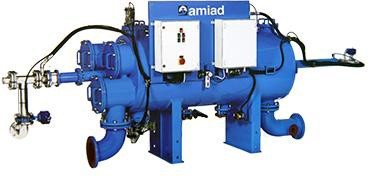 How Self Cleaning Screen Filters Operate
Single Unit – Intake water enters the screen area where solids and particulates accumulate on the screen surface. These solids are removed through an access port and the screen is cleaned physically by water jets, brushes, or soaking.
Multi Units – In water filtration systems, intake water enters the screen area through the backwash valve, and the solids are deposited on the screen. Backwashing is accomplished by opening the backwash valve, which shuts off the incoming water, and at the same time, opens the backwash port to a near atmospheric condition. Filtered water from the adjacent units is forced backwards through the screen, cleaning it and forcing the particulate material out of the backwash port.
Our 20 plus years of experience enable us to help you select and or design the right strainer system to meet your water and application requirements. We have worked with a wide range of industries and have the ability to understand your complete usage and water requirements in order to offer the most suitable water system solution. We back that system with supplies, service, and unmatched support.
Self Cleaning Automatic Disc Strainers
Integra's automatic disc strainers utilize advanced disc filtration technology to provide an efficient water straining system as part of a complete water filtration solution. The grooved discs create a specific micron sized channel when layered and stacked within the housing unit. These stacked discs are compressed to create an array of surface areas that capture solids and allow the water to percolate through the filter in a pressure and corrosion resistant housing unit.
The disc filtration system allows the water to enter from the peripheral end of the unit to the element's core. Water filtration level is dependent upon the micron rating and number of discs used in the unit.
We can help select the right automatic disc strainer to meet your water filtration needs and application requirements.
Whether you need a stand-alone unit or an automatic strainer as a pre-filter to your overall filtration system, we have worked in a wide range of industries and can help you solve your water quality process.
Contact Integra today for more information.