Quality water treatment delivers exceptional value
Integra deliver value through exceptional service and quality water treatment
Integra was commissioned to complete a Water Treatment assessment for a large commercial building in the heart of Brisbane's central business district.
The building consists of a large central core floor plate configuration which translates into efficient floor use and flexibility.
A commendable 4.5 Star NABERS Energy Rating supports the highly efficient air conditioning and lighting that not only offers tenants the benefit of lower energy costs, but also delivers benefits to the environment. Outstanding value for money and continues to outperform its peers.
Integra already maintained the cooling towers at this property on behalf of the buildings' representatives. Integra took over the water treatment program and began to carefully inspect the condenser system and cooling towers. It was quickly discovered that all four cooling towers were heavily scaled, and the fill pack was extremely fouled.
The poor condition of these systems resulted in lost heat transfer and a very dirty condenser water system.
The conditions severely impacted many of the clients' auxiliary HVAC systems, due to a dirty condenser water loop which resulted in AC failures tripping out due to blocked strainers.
The cooling tower fill pack was also heavily scaled due to neglect, age, the harsh Brisbane water conditions, and also its previous water treatment history.
The fill pack required replacement to overcome these persistent problems.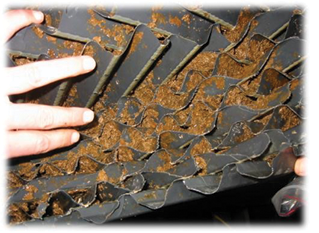 Integra deployed our polymer scale control program together with weekly & monthly remotely monitored chemical dosing equipment to control the water chemistry.
We reprogramed the operation of the side stream filtration to assist with the cleanliness whilst the fill pack was being cleaned.
The fill pack was successfully cleaned by applying a holistic approach to both the water management program and the water chemistry. This included the re-programming of the SSF filtration. The result was that all of the HVAC strainer issues were quickly resolved.
The above actions implemented by Integra had a tremendous result and delivered significant value to the client.
For more information on how our skilled service, exceptional chemical solutions, and quality water treatment programs can help your business, contact Integra today.